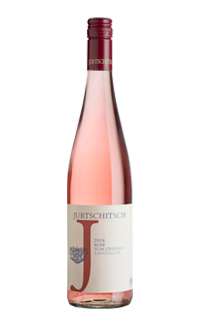 Grape variety: 100 % Zweigelt
Soil: Primary rock & Loess around Langenlois
ABV: 12.5 % Vol
Ac: 6.9 ‰
RS: 1.5 g/l
Ageing potential: 2022

Zweigelt Rosé 2019
This rosé captivates through its vibrant pink color with onion skin hues and delicate aroma of fine fruit with nuances of cherry and wild berries. It's fresh and stimulating!
Making of the wine
The ripe grapes are harvested in small crates by hand. They are destemmed and after a short maceration period - when the must has received its classic onion skin color - carefully pressed, and the must clarified. To preserve the delicate aromas and flavors of the grapes, the must is fermented in chilled stainless steel tanks at 18 °C, and the wine is then stored in them on the lees. .
Enjoyment recommendation
Perfectly suited for the summer! Refreshing and invigorating on a sunny terrace - solo, or as an ideal pairing with antipasti, pasta, paella or white meats.